Hey folks! Transparency Disclosure- Some of the links in this article are affiliate links. That means I'll receive a small commission if you decide to click on it and buy something. Don't worry, it doesn't cost you anything extra!
Christmas, much like Thanksgiving, is a perfect occasion for wearing pajamas all day. After all the parties and festivities on Christmas Eve, Christmas day is a perfect day for relaxing comfortably at home. With that in mind, I've scoured the web to find you the best pajamas for Christmas.
Why Pajamas for Christmas?
Christmas is probably the best holiday for pajamas. Although I prefer to wear them at Thanksgiving (they are the epitome of comfort, and so roomy!) it's far more socially acceptable to wear pajamas for Christmas.
Most people wake up on Christmas morning to the sounds of their children's excitement over all the presents Santa left under the tree. After some amazing morning Christmas coffee (or tea!), the family sits around the tree to explore the bounty left by Santa that night. Isn't that a perfect occasion for wearing pajamas? But that begs the questions – which pajamas are best?
The Best Pajamas for Christmas
Matching Family Christmas Pajamas
The great thing about Christmas is all the options for adorable matching family pajamas. I tried so hard to find these options for Thanksgiving, but for some reason it's just not a thing. But for Christmas…its hard to find pajamas that AREN'T family matching pajamas! It's so much fun!
My favorite family Christmas pajamas are from Shinesty. Check out this hilarious Christmas tree light set – they have size options for the whole family! Shinesty also has options for cute instead of funny. These adorable Santa hat pjs come in sizes for the whole family – and you can also get matching socks! Shinesty is one of the best resources for novelty pajamas (and other fun novelty outfits!) I've ever found.
Another great resource for matching Christmas pajamas is Old Navy. They have an amazing '"Jingle Jams" promotion throughout the month of December with tons of options for matching pajamas for the whole family. Old Navy's options aren't as loud and novelty-like as the one's from Shinesty, so they are a great option for those who want matching pajamas that are a bit more subtle. My favorite are the skiing santa pajamas. They have tons of sizes (even onesies for baby!) and they are subdued enough that you won't make a statement if you don't want to.
If you want to go super quirky (and include your pets – they are family too after all!) check out these reindeer pajamas from JC penny. It's a onesie reindeer pajama suit, and they also have an option for Fido! Isn't that amazing?
Matching Couples Christmas Pajamas
Not everyone has kids, so maybe you just want to cuddle up with your honey in matching pajamas. Shinesty has great options for couple's pajamas as well. My favorite option is the blue snowman Christmas onesie. They are mostly cotton (80%, 20% polyester – which prevents shrinkage!) so they are super comfortable and breathable. They are also adorable! I also really love the green Santa head onesie because it has a hood. Hoods make me so happy!
If you aren't into onesies (I think they are adorable, but sometimes I have to pee too much, and that just gets annoying) check out these sets from JC Penny. I really like the Scottish dog pair – they are Christmas colors so they do count as Christmas pajamas, but since they aren't snowmen or Santa, you can get away with wearing them all year long. If you want an option that screams Christmas, check out these adorable tree & presents sets. They are also two pieces, and they definitely embody the Christmas theme.
Comfy Christmas Pajamas
Sometimes, you don't want to be festive, you just want to be comfortable. Jama time has you covered as well. Target has some amazingly comfortable pajama pants for the ladies. They are soft, loose, and even have pockets! It's everything that you need in a pajama pant. The only problem with them is that they are a little lightweight, so they may not keep you as warm as you'd like. If you want something that will keep you a bit warmer, check out these flannel pants. They also have pockets, and the flannel material is a little better for those who are always cold. Both the green plaid and red plaid options can be considered Christmasy!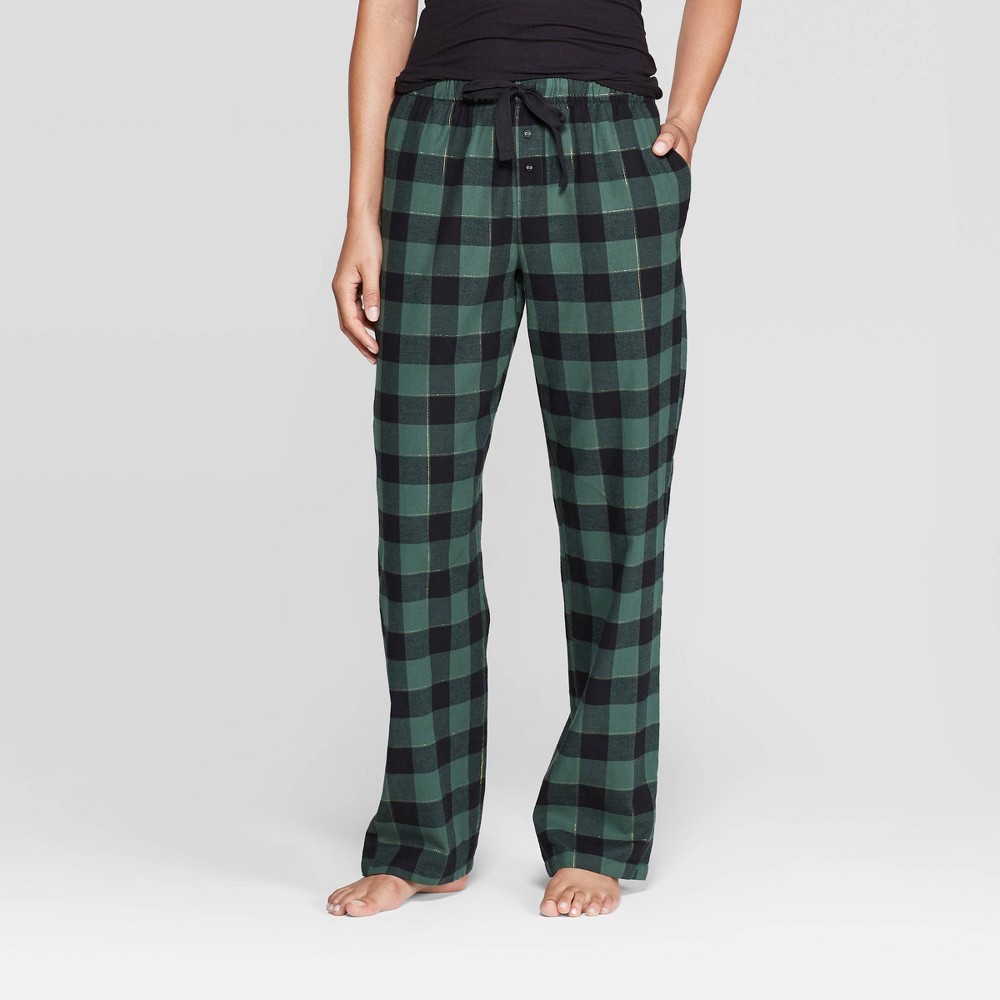 Express is a great option for the fellows who want comfy pajamas for Christmas. These plaid flannel lounge pants are perfect for hanging out at home on Christmas day. They are warm, cozy, and the red is technically a Christmas color – so it works. If you're looking for something a little more lightweight, check out these comfy jersey pants. They won't keep you as warm as the flannel, but sometimes you don't need that. They also aren't very Christmasy, so you can wear them all year long!
Pajama Accessories for Christmas
A list of the best pajamas for Christmas wouldn't be complete without pajama accessories! My favorite piece of pajama gear for Christmas is from Shinesty. Check out this amazing Christmas robe! It's the leg lamp from A Christmas Story! How fun is that? It's available in both men's and women's sizes, so if you're part of a couple you can get a matching set!
My favorite slippers for Christmas are obviously going to be the reindeer slippers. This pair from Target is super sleek and light-weight – way better than those bulky ones with antlers you usually find. JC Penny has a fun option that's more of a bootie style, if you prefer calf-high slippers.
What are your Favorite Christmas Pajamas?
What do you think the best pajamas for Christmas are? Do you prefer the novelty Christmas pajamas with fun designs, or something that's build for comfort? Let us know in the comments!