Hey folks! Transparency Disclosure- Some of the links in this article are affiliate links. That means I'll receive a small commission if you decide to click on it and buy something. Don't worry, it doesn't cost you anything extra!
It's officially winter, and that means cold temperatures, long nights, and of course, cozy pajamas. But with so many pajama options available, how do you decide which are the best pajamas for winter? Luckily for you, Jama Time has you covered with the top five pajama options for winter.
The Best Pajamas for Winter
This winter pajama thing is a bit new to me. I've lived in Los Angeles for most of my adult life, and it wasn't until last year that I needed to even worry about winter pajamas. But man did I learn fast! Winter pajamas are a necessity when you live in the North East! So what are some things that make a pair of pajamas the best for winter?
I'm glad you asked. The most important consideration when deciding the best pajamas for winter is their warmth and comfort. Are these pajamas going to keep me warm and cozy all winter long? We'll call that the hygge factor.
Another important consideration for deciding which pajamas are the best for winter is cost. There might be a few pricier options on this list, and I can guarantee you that those expensive pairs are the epitome of comfort, but affordability is also an important consideration. Pajamas can't be the best for winter for everyone if the cost makes them out of reach for most people.
The last factor when deciding which pajamas are the best pajamas for winter is style. We want to look good in our winter pjs, don't we? I know that when most people think of pajamas, they aren't trying to be super fashionable. But when you spend your life wearing pajamas like I do (and I think more people should!) you still want to look good. Thankful, there are tons of pajama options that are warm, cozy, affordable, and stylish!
What is the Warmest Material for Pajamas
Before we talk about the best pajamas for winter, we have to have a brief segue into materials. Though there are tons of great clothes available for pajama making, my favorite winter pajamas are generally only made from two materials: Fleece and Flannel.
Fleece is the warmest material you can get for pjs without sacrificing comfort. I mean, yeah, you could probably make wool pajamas, but that doesn't sound very cozy. Fleece is also great at keeping heat trapped in, so you won't get cold during those freezing nights.
Flannel is also an amazing material – it's made from mostly cotton and does a lot to help keep you warm during those cold winter nights. It's also more breathable, so helps you regulate your temperature better. You are less likely to wake up sweating if you wear flannel.
Back to the Best Pajamas
Ok, so now that we know why the best pajamas for winter are generally fleece or flannel, let's get to the list! Here are my top choices for winter pajamas.
Women's Cuddl Duds Three-Piece Set
The absolute best pajamas for winter when taking warmth, comfort, style, and affordability into consideration are the women's three-piece cuddle duds from Kohls. These pajamas are all around amazing. The pants basically look like loose-fitting leggings, so it definitely won't seem out of place if you wear them on a run to the grocery store. The fleece construction will keep you warm regardless of the temperature, and they come with a matching scarf! With all the color options available, you will definitely find something that fits your style. The regular price of fifty-two bucks is a steal, but you can probably get them for cheaper with all the deals that Kohl's has running.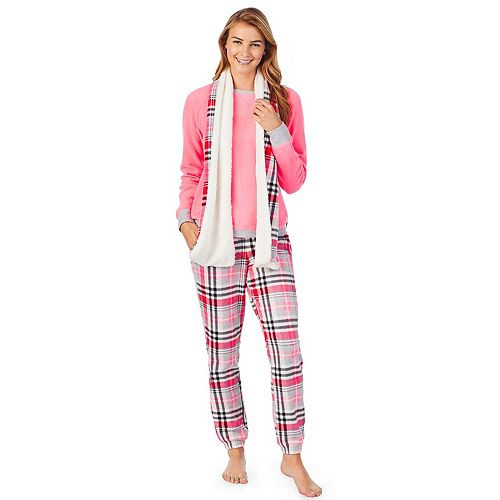 Charter Club Flannel Pajamas
A close runner up is Macy's charter club flannel pajamas. I love the red flannel pajama pants with the v-neck top – they are comfortable and don't scream "I'm wearing my pajamas". The tonal plaid matching set is also a great choice for stylish comfort.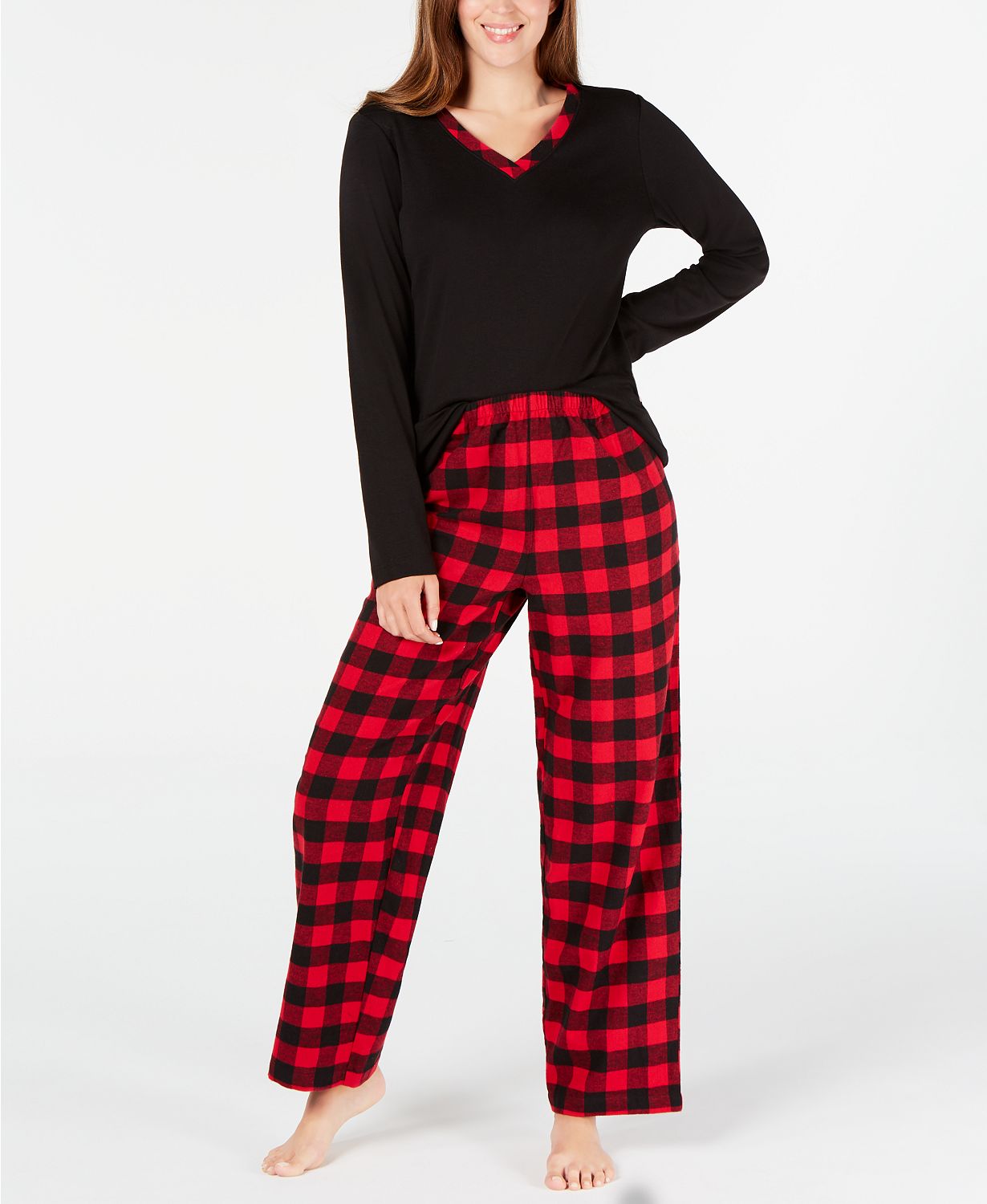 They are made with flannel, which we already covered as being one of the best fabrics for winter pajamas. And at a cost of just sixty dollars for a set (top and bottom!) they won't definitely won't break the bank. And, Macy's often has awesome sales going on, shop now to see if you can get them at a discount!
Old Navy Flannel Pajama Pants
If you are on a tight budget, Old Navy's Flannel Pajama Pants are the winter pajamas for you. Unfortunately, these don't come in a set like the first two, but you can't beat less than ten bucks for flannel pajama pants. I definitely prefer either the red or the white checkered plaid options. The other designs are a bit too Christmassy – which is great for Christmas pajamas, but can feel a little gimmicky as the barrenness of winter lingers.
Although Old navy doesn't offer their best flannel pajama pants as part of a set, they do sell thermal tees to go with them at low prices. Though technically not pajamas, these tees are super warm and awesome for either sleeping or lounging.
Pajama Gram Super Soft Pajamas for Women
These pajama gram pajamas are awesome because they come in beautiful colors and they have a great kangaroo front pocket that helps keep your hands warm. I also really love the loose neck feature – sometimes shirts with tighter collars can make me feel like I'm choking. That's definitely not something you want in a cozy pajama!
These super soft pajamas are made with fleece, so they will definitely help you keep warm on those cold nights. They run large on purpose – because they are meant to just be comfortable. But keep that in mind and order your size accordingly!
Flannel Sleep Shirt
Sometimes we just don't want to wear pants – especially while we are sleeping. That's where this amazing flannel sleep shirt from target comes in. It's super warm and breathable flannel material, and long enough to wear by itself as a sleep shirt. And, at twenty bucks, the price is incredible!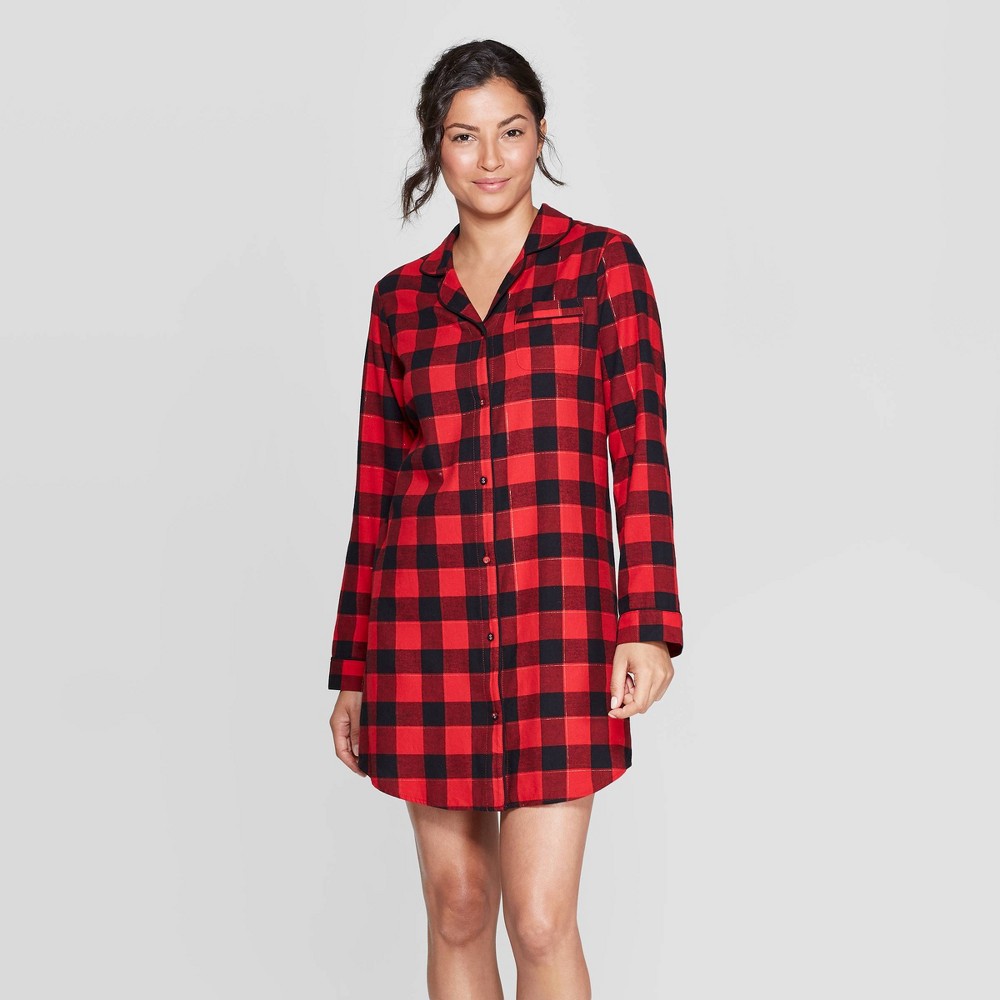 The Best Winter Pajamas for Men
Men tend to get the short end of the stick when it comes to options for pajamas. But that doesn't mean there aren't great choices for you as well!
Express tends to have the best collection of men's pajamas. I'd definitely recommend the plaid flannel lounge pants. They are better than the joggers because they don't constrict at the ankle. That makes them perfect for lounging.
Amazon also has some great options for men. These Amazon essentials men's fleece sweatpants are a great choice that you can wear to sleep, hang out at home, and even run errands!
What are Your Favorite Winter Pajamas?
Did your favorite winter pajamas make this list? If not, tell me what they are and why I should include them! I'm always on the lookout for the perfect pair of winter pajamas